Posted on
By dandelion KIDS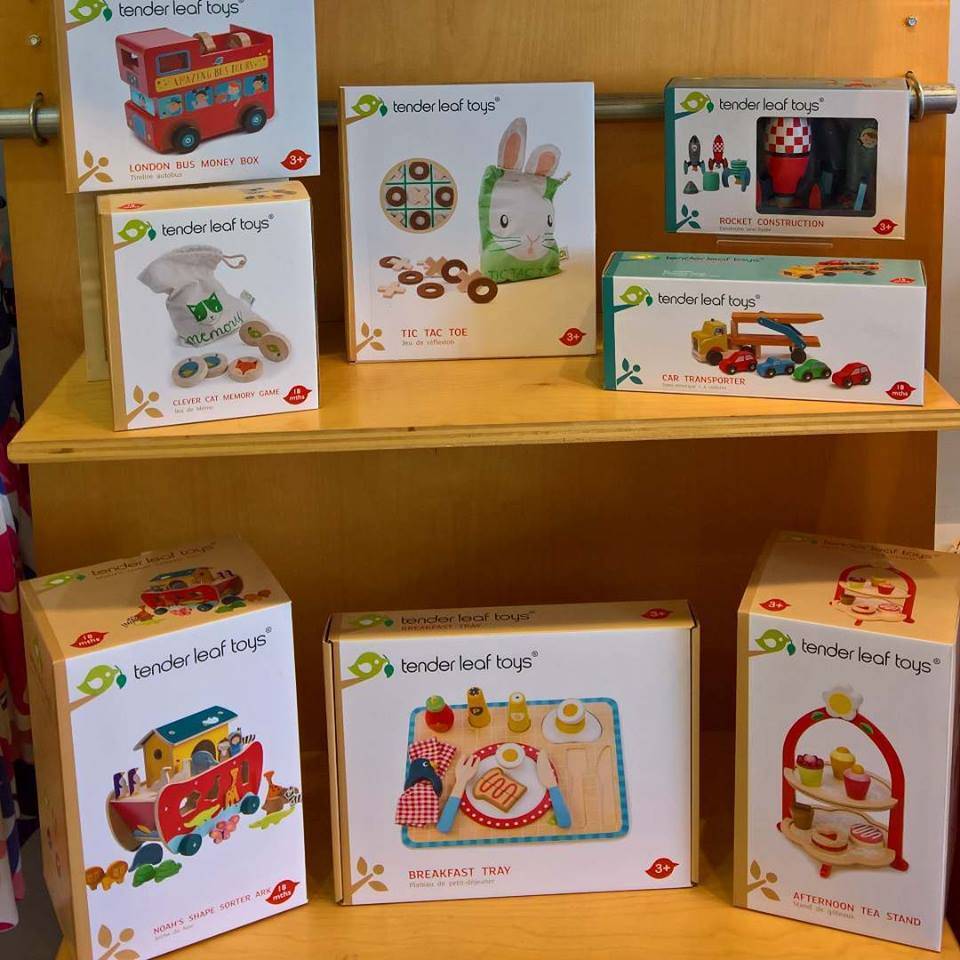 One of our newly curated product lines -- Tender Leaf Toys debuts at dandelion KIDS
Tender Leaf Toys
After meeting with a representative or Tender Leaf Toys, dandelion KIDS thought that this would be an excellent addition to our toy line.  Tender Leaf Toys is made with extremely well-thought-out designs from the United Kingdom and focuses on the development of children from a very young age until beyond the age of 3. 
Each Tender Leaf toy focuses on learning through play.  By combining traditional concepts with contemporary designs, all toys are produced with exceptional craftsmanship and quality.  Tender Leaf Toys focuses on physical, social, creative and imaginative development of children and always tries to integrate all these areas of development into all its toys and each toy is tested for playability with children from 18 months to 3 years old and beyond before being manufactured and sold throughout the world.
All Tender Leaf Toys are made of environmentally sustainable rubber wood/plywood that coloured with non-toxic water staining so that paint never chips.  Some toys are combined with a soft fabric consisting of a blend of soft cotton.  The soft colours and designs selected for each toy make it a perfect gift that will look stylish in any playroom and/or nursery.    
Aside from being contemporary and beautifully-crafted, Tender Leaf Toys are environmentally sustainable as well as ethically and safely produced.  The entire process needed to create a Tender Leaf Toy is extensive.  All toys must meet European and American safety standards and start from the cutting, painting and drying of wood.  Then each toy is produced in one single factory in Indonesia where the company continues to achieve and maintain its ICTI seal of approval.  Quality and ethically high standards not only apply to product manufacturing but to all areas of the organization.  
Tender Leaf Toys obviously shows that they care about the development of children, but it also thinks about our children's futures and that means the future of our planet as well.  Not only does Tender Leaf Toys use sustainable rubber wood, but for every tree that is removed to make one of its beautiful toys, another is replanted. 
The result is safe, non-toxic, beautifully-crafted toys that focus on the development of children through the use of play, and equally as important, each toys is environmentally sustainable and made with exceptional quality and ethical standards with the future of the planet and our children in mind. 
With so much thought put into its design, consideration of development and safety for children and the environment, Tender Leaf Toys is a great addition to our product line and we hope that you will come by and visit to see the line for yourself!  Many customers have already told us that they love it just as much as we do.